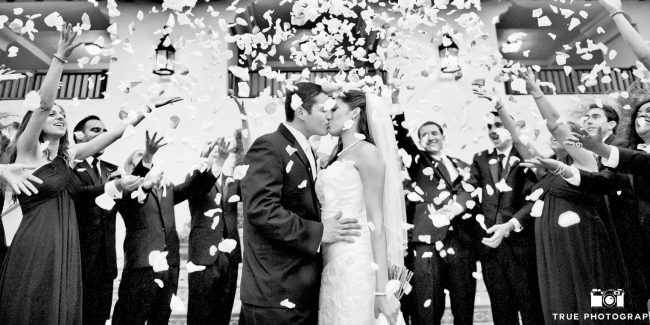 Through film and sound, wedding videography can capture not just images, but entire moments in time. Wedding videography in San Diego is the perfect complement to traditional photography because it allows your experiences to be remembered and cherished in an entirely different and powerful way.
Avoid a wedding whirlwind
Ask anyone who is married, and they'll tell you that a wedding day passes by in an instant. While you're busy saying your vows, greeting family and dancing the night away, there may be many little moments between guests that you'll miss. Your videographer has the ability to capture important, unseen moments such as your guests arriving, your significant other getting ready, the looks on your faces as you say "I do," and the dance moves at your reception. In your video you can hear the well wishes of your loved ones and be happy knowing that all of the hard work you put into your day will be documented and remembered forever.
Enjoy a moving memory
Wedding videography allows you to relive the most important moments of your wedding day. Through your video you will be able to not only see, but also hear the emotion behind your vows and the inflections in your voice as you recited them to each other. Your video will also enable you to cherish moments throughout your day that you weren't expecting. If your wedding party's speeches made the reception hall burst into laughter, or your grandparents' dance brought a tear to guests' eyes, you will always be able to keep those memories with you.
Additionally, wedding videography lets you see and hear how the most important people in your life celebrated your day. Often photographs focus on the married couple and the closest members of their wedding party. Video has the power to depict a complete picture of how all of your guests participated in your wedding. You'll see not only how guests interacted with you, but also how they celebrated with each other. Through your video you'll capture their silliest dance moves and happiest smiles.
Create a keepsake
Working with a wedding videographer allows you to have a tangible keepsake of the most important day of your life. Throughout the years of your marriage, you'll be able to look back on your day and reflect on the love you felt. Your video will also provide you with a way to share these memories with others. If a loved one wasn't able to attend the celebration, they can still enjoy watching you get married through your wedding video. Perhaps most importantly, wedding videography allows you to pass down the memories of your day to your future children and grandchildren.
Wedding videography in San Diego captures the most important memories from your day and gives you the opportunity to relive your experience, exactly as it happened, for years to come. If you are looking for professional wedding videography in San Diego, speak with a skilled filmmaker at Taylor Films for more information on preserving the priceless moments of your celebration.